These are a few of my favorite links...
---
www.AlienResistance.org A Christian website full of Biblical perspectives, theology, personal testimony, and research on UFOs and Aliens, prophecy, and Spiritual Warfare, testifying that alien abductions do stop in the name of Jesus Christ, and can be terminated as a life pattern, and offering people help with such. Alien Resistance was founded by Guy Malone, Joe Jordan, and Pastor Chris Ward in 1999.
---
www.CE4Research.com Website of Joe Jordan, a MUFON investigator and MUFON state section director, paranormal researcher, and a born-again Christian, who has found that "alien" abductions both stop in the name of Jesus Christ, and can be terminated as a life pattern. At this point he has over 100 documented cases online of this happening. The CE4 Research Group offers help for abductees in terminating abductions. He has many educational online videos at his website here: www.UnholyCommunion.net
---
www.AncientofDays.net The Ancient of Days Conference website, which is where to find very informative DVDs of lectures from the best secular researchers on Aliens, Abductions, and UFOs, and also where to find the best Biblical and Christian perspectives and research to date on these topics. I have watched ALL of them and recommend them. Also, they are not-for-sale, but available on a name-your-own-price donation basis.


The 2010 Ancient of Days Conference Videos are all online to watch at www.TheInvisibleBattle.com
---
www.StopAlienAbduction.com The website of the World Alien Resistance Network, or alternately called
The Wicked Angel Resistance Network. This is a Christian website by Christians, for Christians who want to get involved in the spiritual warfare field of ministry and outreach, including all aspects of supernatural or paranormal oppression. The website includes online forums for people to connect with one another, many Biblical equipping educational resources, and has a heavy emphasis on Christians so so called, getting involved in this field of ministry. As the site says, "Where the called, get involved."
---
StopSleepParalysis.org is the ministry website of Mike Tatar Jr. and Chris White, dedicated to helping people end sleep paralysis experiences, as well as prevent them from coming back. Includes online videos on sleep paralysis, and much additional information and research. Also see Mike's online video lecture from the 2010 Ancient of Days conference Here. Mike Tatar co-hosts the very Awesome informative weekly Christian Radio show Future Quake with Dr. Future, Mike Bennett.
Also check out the 'Verse by Verse Bible Teaching with Mike and Chris' audio program.

---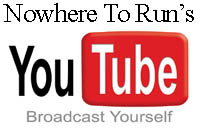 Online Christian Educational Radio Show with Chris White on a variety of topics, links to many of his other websites and projects, with an emphasis on evangelism and debunking false teachings. Also see video collection at:




---
www.AlienIntrusion.com Official website for Gary Bates' book Alien Intrusion, UFOs and the Evolution Connection, which I have read and think it's a Great Book!
For educational information on Creationism, history, science,

check out Creation Ministries International at Creation.com
---
New Site http://www.NephilimHybrids.com Debunking the Modern Nephilim Hybrid Mythos.
If you think you may be a Hybrid or a Nephilim, make sure to check it out!
---
New Site http://www.WalkIntruth.net Understanding Biblical Gender Equality - Online Book
If you are a Christian female or a Christian male, make sure to check it out!
---
The website of With One Accord Ministries co-founded by Bill and Sharon Schnoebelen, deliverance ministers. They have expansive resources to help those needing deliverance ministry, especially those coming out of occult and cult groups. Check out Blood on the Doorposts, an Advanced Course in Spiritual Warfare which is advanced and another spiritual warfare Must Read.
---
www.SaintsAgainstTyranny.com The website of Ian Henry: a fantastic well-researched Christian educational website for those interested in History, secret societies, prophecy, and modern politics, with hours worth of video links and also a section on the "alien"/UFO deception. A must read resource for anyone wanting to know what is really going on in the world.
---
www.LogosChristian.com Website of Pastor Chris Ward, who specializes in deliverance and spiritual warfare ministry, and has many great and helpful articles to read. Pastor Chris is the author of the book 'Case Files of an Internet Exorcist'. Chris' ministry is that which Jesus spoke of when,
"He said to them, "Go into all the world and preach the good news to all creation. Whoever believes and is baptized will be saved, but whoever does not believe will be condemned. And these signs will accompany those who believe: In my name they will drive out demons; they will speak in new tongues; they will pick up snakes with their hands; and when they drink deadly poison, it will not hurt them at all; they will place their hands on sick people, and they will get well." (Mark 16:16-18)
At Logos they have deliverance meetings free for the public every month, and to their honor, never charge for prayer or deliverance. (Go here to help support this not-for-profit with their ministry costs.)
---

www.MichaelSHeiser.com The website of Christian Dr. Michael S. Heiser, Phd. containing some of his research on the Divine Council, angels and fallen angels, the Nephilim, Genesis 6, parallels to Bible history in other cultures, and all this research is from someone who actually can read the original languages! Required reading for everyone interested in these topics. Also has a good read fiction book called "The Facade" on the "alien"/UFO deception.
---
www.seekye1.com Website of Guy Malone's book, Come Sail Away: UFO Phenomenon and the Bible, free to read online. A former abductee, Guy tells his story and perspectives on his experiences, and his testimony on how being reborn a Christian changed him and his life. It's a great read for both the religious and nonreligious alike, with much logical and thought-out insight into the motives and morality of those behind his abduction experiences.
---

Check out the book and radio show The Cursed Net by Byron LeBeau and Richard Stout at www.TheCursedNet.com, which gives Christian perspectives on the net of deception of this world which attempts to catch us in the lies of the evil one. Also see the extensive further writings of Byron at http://inspectorblebeau.pbwiki.com
---
www.JesusTheDeliverer.org is the website of Mitsi Burton, a deliverance minister, under the not-for-profit 'That Way of Jesus Christ Ministries'. On this site there are many good articles on a variety of subjects, especially deliverance and demons, explaining legal spiritual authority grounds, and articles offering helpful insight to those afflicted. Besides ministering deliverance, they also do teaching and speaking engagements. A great site!
---
www.ArticlesandBooks.com is the website of Stacie Spielman, a retired deliverance minister. Her book "Betrayed By Her Guardian Angel" is available for free download, and she also has available her second book, "Demonic Spirits and You" at her website, or click the pictures above. You can also check out an interview (05/08) with her on the radio show "Live From Roswell".
---
www.UFOS101.com Site for a great introductory DVD on the topics of UFOs, Aliens, and Alien Abductions. This DVD contains summaries of a huge list of research books in this field, both secular and Christian. It's a great and useful starting point for knowing what books to go to in researching these topics on your own. Also available on a name-your-own-price donation basis! Cool!
---
Some cool pages with lots of info, articles, and videos, from "Deep Mindquest"
http://www.myspace.com/ufosthehiddentruth http://www.myspace.com/deep_mindquest http://www.myspace.com/newagevsthetruth
---
www.freestickers.net Where to get those super-cool stickers, for free, as the name implies.
---
www.blueletterbible.org The Greek, the Hebrew, versions, translations, in a great format! Has everything but the Septuagint.
www.searchgodsword.org The Greek, the Hebrew, versions, translations, ok format, And the Septuagint!
Disclaimer: A couple of the websites above I completely agree with their content, but many I only agree with in part, and some I only agree with them a little bit, but all of them I find interesting or helpful for some reason, such as comparative research purposes.